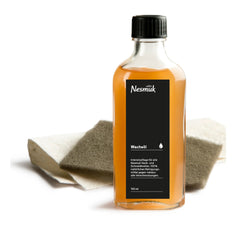 Nesmuk
Care Wax Oil
VAT included
We recommend using our Nesmuk care wax oil to maintain your Nesmuk boards. The composition of the natural ingredients is perfectly tuned for the oak wood of the Nesmuk boards: Made from pure plant oils, precious natural resins and beeswax, it reduces the absorbency and strengthens the surface of the wood.
Every wax oil includes an abrasive fabric, a soft cotton cloth and a manual.
Delivery time: 1 - 3 woking days.